February 2, 2017
Honest Interviews #1: Damian, Project Manager in Love with Psychology
We believe that managers should focus on people first and profit second. Damian Markowski has the perfect background just for applying this philosophy. He studied business psychology at University of Social Sciences and Humanities in Warsaw and has gained professional experience with various NGOs
Oh, and he's always neatly dressed.
Truth be told, we think that interviewing our own people on our own blog is downright pathetic.
But you know what? Damian wants to be famous so badly, that we went ahead and did it.
Chances are, he won't ask for a raise anytime soon.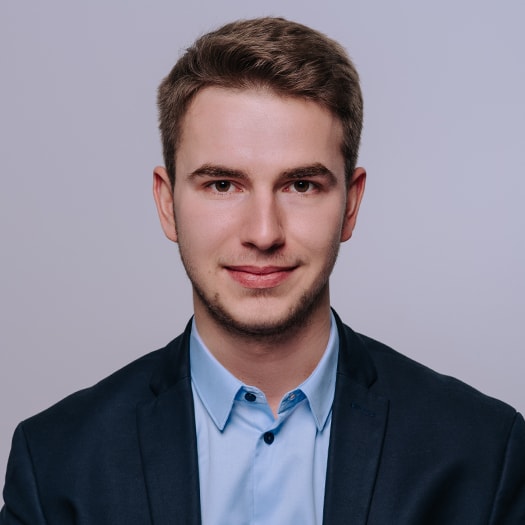 And here's where the psychology part kicks in. Since everyone is slightly different, I need to get to know everyone. That way, I can allocate the tasks efficiently. Choose the right ones for everyone. Sure, from time to time we do boring stuff, but there's no running away from it.
Steve Jobs once said that "you can't connect the dots looking forward; you can only connect them looking backward."
True. I started working at quite an early age but didn't handle anything related to project management at first. I began with charity and NGO work which led me to becoming a team leader for one of the most notable Polish NGOs. Then, I took the business psychology classes at the university.
The rest is history: I joined In'saneLab and immediately found it to be a great place to further develop my skills. I have an opportunity to work with a bunch of really talented people. Also, web development is a fascinating thing for me. It's literally creating something from nothing.
And does working for a charity differ much from business?
It's all about motivation. In reality, it doesn't matter if you're working for money or not (well, except for the fact that you still need to eat). The engagement matters.
Okay, and what's the best part of project management?
In theory, you work your usual 9-5. A whole day can go by and nothing happens.
Plan your day for 4-6 hours tops. It always fills up!
But truthfully, it's a constantly changing thing. You can receive a "do-it-now" project at any time.
I'm quite fond of adapting to such situations. I consider them a challenge. What I find helpful, and what actually can be useful for everyone, is to always plan your day for 4-6 hours tops.
Automagically, each day has a way of filling up.
What are you afraid of?
Aside from dragons?
Professionally?
It's a lot of responsibility. I'm not afraid of it, but it is a real thing now. We handle real business, and we have more than 20 people working with us. Trying to keep the start-up work attitude, with no hierarchy, allows us to cultivate our creative environment.
How we differ from a stereotypical corporate structure is… well, we literally care about people's comfort and frame of mind. Everyone can have a bad day, and my job is to find a guy with a similar skillset who's having a better-than-usual day. A guy who will help his colleague.
That's where the empathy kicks in.
Digital tools that help Damian get his job done
JIRA (project management)
Toggl (time tracking)
Slack (comms)
The honest part
All joking aside, why do we need you? You can't code. Or design.
And you can?
Dress to impress? Or are you compensating?
I don't really produce anything, so yeah. The second one.
Why is psychology a scam?
Man, I've been wondering about that, but what the hell. It's still better than pyramid schemes.
I think you're a psych major due to problems in your life.
In that case, you should study the same exact thing.
But honestly, you have some serious issues.
I'm golden as long as our clients don't know about it.
Why are you always late for work?
Because then everyone can pay attention to me. My entering the office doesn't go unnoticed, and I can compensate for my low self-esteem.
What were you thinking about when you lost another PlayStation NBA match yesterday?
About you, and how you feel every day.
Thanks for the interview.
You don't mean that.
3 Most Important Things on Project Management
Assigning tasks shouldn't be based solely on skills, but also on personality.
You'll always need an extra hour to finish something.
Project management is something that can change in an instant.