February 21, 2018
Accelerated Mobile Pages: A Boost for Your Conversion Rate
Mobile web browsing surpassed desktop browsing a while ago. Mobile-responsive pages are an established standard already. But as the mobile market share grows, there are still ways to go, if you want to improve your mobile user experience. One of those ways is the AMP – Accelerated Mobile Pages.
On the one hand, mobile browsing is comfortable, because of the unmatched accessibility. You're basically carrying an online connection in your pocket at all times.
On the other hand, however, browsing on a smartphone can leave a lot to be desired in terms of functionality, precision, and speed.
If you're in the e-commerce industry, for example, the latter factors may outweigh the accessibility, as potential customers won't feel safe about purchasing on a website that loads slowly and isn't as functional as its desktop counterpart.
Check out these 9 Web Design Mistakes Killing Your SEO and Conversion
As we witness the m-commerce (mobile online shopping) overtake the traditional e-commerce, the factor of page loading time has gained more importance than ever. Lack of speed can kill you.
It goes way beyond the comfort of web browsing. It determines your conversion rate. That's why Accelerated Mobile Pages are the new trend in the industry.
The Underrated Impact of Speed on Conversion Rate
It is estimated that today about 60% of all internet traffic comes from smartphones and tablets. That would explain the reports from last November bringing up the examples of online stores, which on the occasion of Black Friday actually sold more goods and services via their mobile pages than with their traditional desktop websites.
The message is clear here: get ready for mobile domination of online shopping. While responsive web design is an obvious step in this direction, cutting down on page loading time should be the next move.
Speed is often underrated by entrepreneurs. It's regarded as more of a characteristic that only impacts the comfort of browsing.
Research by Kissmetrics, however, shows that page speed directly affects the sales, or the conversion rate, to be more general. Let's dive into the numbers for a moment.
As many as four out of ten users abandon the page if it takes more than 3 seconds to load. This is surprisingly short, isn't it?
Reportedly, just one-second delay in page loading time will decrease your conversion rate by 7 percent.
This means that if your business is making 100k a day, and your page loading times go down by merely one second, you will lose a staggering 2.5 million in a year. Two and a half million! Let that sink in.
Increasing the page speed doesn't mean just higher conversion rates, but also more customers. The quicker it takes for a page to load, the higher the SEO ranking. This obviously means more organic visitors.
Now, once we established that the combination of mobile and speed is the bread and butter of today's online business activities, let's take you right to the solution.
How Accelerated Mobile Pages Change the Game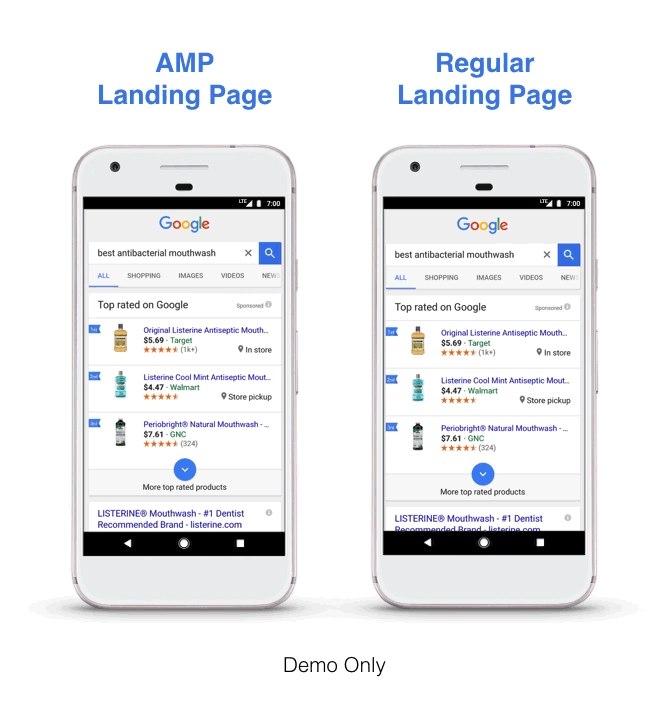 Accelerated Mobile Pages (AMP) is an open-source initiative started by Google about two years ago. It's best to define it as web pages based on static content, that were built in a way that would support fast rendering. AMPs are composed of three elements:
The first one is AMP HTML. What it is, is a standard HTML with extensions to help create rich content. Additionally, it's characterized by AMP-specific tags. The use of some standard HTML elements is forbidden in AMP, however.
The second ingredient is AMP JS. These are the fast-loading JavaScripts responsible for loading the repository. They also have their own AMP-specific tags.
Finally, there is the AMP Cache. It's a network responsible for delivering the content to the user. Delivering all the contents of a page from one place makes it possible to deliver it in a blink of an eye.
To put it simply, Accelerated Mobile Pages are delivered so quickly because they're pushed to the user not by a server, but by a search engine's cache.
What does quickly mean, though?
Accelerated Mobile Pages load in less than a second, which is three to four times quicker than standard mobile pages do. Additionally, AMPs consume even ten times less data than equivalent non-accelerated mobile pages.
Going back to the Kissmetrics research, this shows that AMPs can dramatically increase your conversion rates in the mobile channel.
This is not just about decreasing the bounce rate, but also, as mentioned before, getting to new customers thanks to the higher SEO ranking.
Although it is not confirmed that obtaining the AMP status for your mobile page will make it rank higher, it is believed that those verified pages could at some point be granted some extra ranking points.
Nevertheless, the page loading time is an SEO factor itself, so one way or another, AMPs will help you rank higher
So, how do you obtain the devoured lightning mark distinguishing AMPs in search results?
Apart from the three components that AMPs are made of, you need to sort out the HTML tag of your page. This means making sure that a standard page that has an AMP equivalent needs to point right to it, and has to have a canonical tag.
Once you have a ready, properly made AMP, there is still one thing to do. It needs to be verified and activated by Google. This can be done using Google's webmaster tools. Once it's ready, your website will obtain a grey check mark with white lightning in it. It will also load instantly for any user of any web browser.
According to Google, there are already 1.5 billion AMPs published. Among other initiative participants, there are:
E-commerce sites, like eBay and AliExpress
Publishing platforms, such as WordPress and Medium
Social platforms, like Twitter, LinkedIn or Reddit,not to mention millions of small to big enterprises
There are no evident downsides of Accelerated Mobile Pages. The issue that raises the most questions is the one of monetizing an accelerated page.
Since there are some restrictions, and ads tend to load slower than a page itself, not all advertising formats are supported in AMP.
However, you can still choose between a handful of solutions. The available formats are display ads (inline and sticky), non-resizable rich media, native ads, text ads, HTML 5 ads, and in some cases also video ads.
Interestingly enough, a special AMPHTML ad format has been invented to broaden the spectrum of possibilities. AMPHTML is a special light-weight, a fast-loading ad that actually doesn't look any different from a regular ad.
Summing up, there are no clear downsides of Accelerated Mobile Pages.
There are clear benefits, though.
With page loading times barely even being a thing, minimal data consumption, and a clear connection between speed and conversion, AMPs have become the next step in mobile browsing.
We have adapted the responsive web design, and it has made a big difference in the comfort of mobile browsing. Accelerated Mobile Pages may not be as revolutionary, but they are certainly making the mobile browsing experience significantly better, which is beneficial both for the users and the website owners.
Delays can be costly for a business. So don't wait any longer and get your company an Accelerated Mobile Page.